28 Mar

Sizing Matters!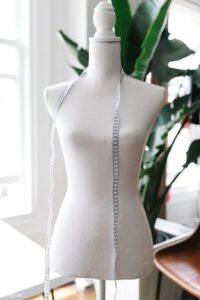 It's my aim to get you into perfectly fitting Siren Clothing styles first time around…
It would make life a lot easier wouldn't it?
After many years of fitting experience, I've developed my range of sizes based primarily on customer expectation, meaning the size you most often purchase is most likely to be the best fit for you in my label, too.
And, importantly, the measurements you see in my Size Chart are exactly the measurements of my patterns.
As I draft my patterns for fabric with 3-5% stretch*, there is no need to add any extra 'ease' to the pattern itself…the stretch in the fabric provides ease for comfort in wear without losing the close fit which defines the classic Fifties silhouette
So, start with the size you most often wear
Then, use the Size Conversion Chart to see the equivalent size in my range
Now, compare your own measurements to my size chart. Remember that the fabric will stretch enough for ease and comfort in wear,
Choose the size closest to your own measurements
I recommend sizing down if you are between sizes and prefer a closer fit
For Swing and Full Skirted styles, hip measurements are not needed
* Note that plain colour designs, such as Grace Sarong and Lola have less stretch so, it's best to size up if you are between sizes in these.
Your height is also an important factor to take into consideration. I make my patterns based on the average female height of 5'4″ (162.5cms) If you are between 5'2″ and 5'6″ my sizes will be fine for you.
If you're extra petite or tall, check out my designs featuring adjustable straps or ties at the shoulders, such as Millie, Marilyn, Ginger, Sabrina, and Riviera.
Lastly, I'm pleased to offer a truly made-to-measure or custom-made service