07 Oct

Noosa STYLE Magazine
Behind the scenes…
This month, Pin Up Paradise, our retail boutique in Noosa Junction was chosen to feature on the front cover of the Spring issue of Noosa STYLE Magazine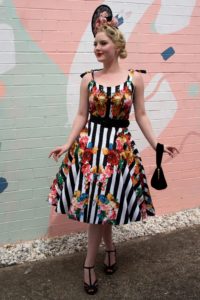 The shoot took place in a colourful laneway here in the Junction, with our gorgeous model, Lily Ruve styled to pin-up perfection by the talented Renae Soppe-Bryan (aka Miss HG Mercury) from the Sunshine Coast Pin Up School wearing new Spring styles from Siren Clothing and Razzama Dazzle.
Photographer: Tom Murray
WELCOME TO THE SEASON OF COLOUR…Let this season be all about you…it's time to indulge in sensory pleasures before the countdown to the hectic, festive party season. Time to luxuriate in this oh-so-special season, absorbing the preciousness of life, love and laughter.